You might think that marketing with infographics is a difficult task.  But I'm here to tell you that these days, that is simply not true.  Believe me, I am NOT a designer – I can barely match colors and outfits – but even I can make a nice looking infographic.
So, let me tell you what I know about this great little marketing tool.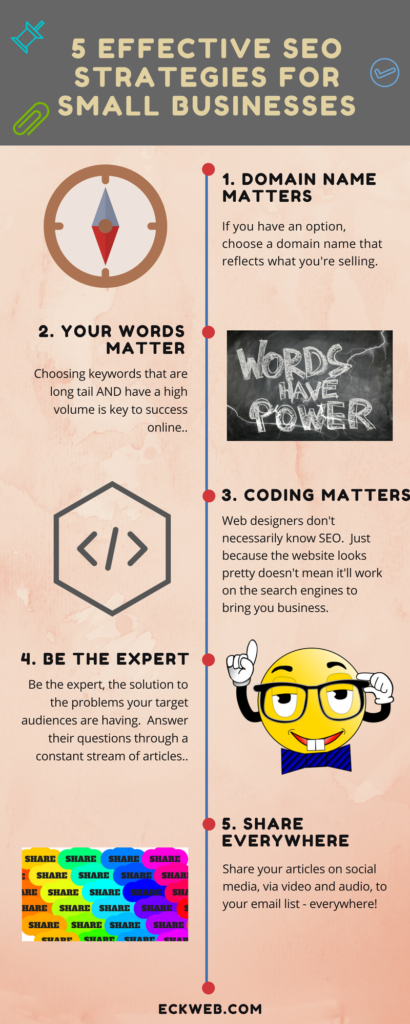 What Is An Infographic?
Simply put, it's a graphic (a visual image) created to showcase information / data.  It's normally simplistic so there's not alot of text on it and the idea is to give the reader a set of bullet points to explain the topic.
They are normally very long, they can be colorful and of course, they are populated with graphics and text to give you a sweet and short summary of the topic on hand.
The image on the right is an example of an infographic I created.
I used Canva.com to create it but there are other online programs that you can use as well.  And if you're a graphic artist type of person you can certainly use your graphic tool of choice to make these.
Why Infographics Work
Before I start telling you how to use infographics for your marketing let me give you 3 reasons WHY they work.
From Inc.com – "81 percent of people only skim the content they read online." – Using visuals increases the likelihood that people will actually read what you wrote.
Infographics – when done effectively – can break down a difficult topic into something that is understandable for everyone.  Yes, you are effectively dumming down the information so that more people can understand it.
These days images are shared more than text.  And infographics are images which makes them extremely easy to share.  Kissmetrics wrote "Photos get 53% more Likes, 104% more comments and 84% more click-throughs."
Infographic Marketing Strategies
The most difficult part of creating an infographic for marketing is the planning.
What do you write about?
What graphics do you use?
How do you condense the information?
The easiest tip I can give you is to start by creating an infographic based on an existing article.  It doesn't even have to be your own article.  As long as the content you are reading has a basic outline or set of steps – you can use it to in an infographic.
Here's an example.
I wrote an article just a few days ago about How To Write 2000 Word Articles.  This particular article has 7 steps (really 7 tips) on writing long articles so I thought it would make a good infographic.
I opened up Canva – chose a template that they had and began creating my infographic.  Now – since I wrote this article it was easy for me to sum up the information for each of the 7 tips.  But if you're using another person's article then you may have to spend a little bit of time reading it and summarizing the information.
And by the way – if you do use someone else's article then please credit them as the source.  It's the right thing to do.
Below is the infographic that I created.  I used my own graphics to try to match the article I wrote.  But note that Canva does provide you with some graphics for free and ones that you can purchase as well.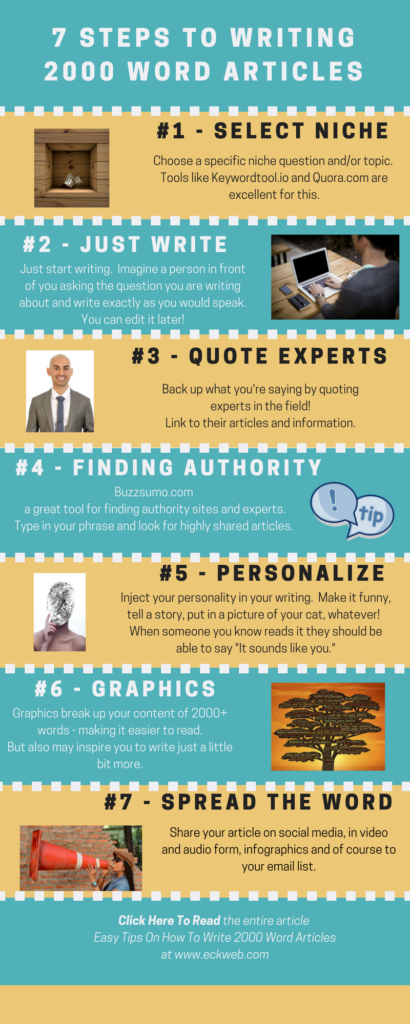 Now, you can save your infographic as an image (.jpg or .png) but you can also save it as a PDF.  This is useful if you have links on your infographic (which I do).  So I saved mine as both.  Above is the image and if you click on it you will be taken to a PDF version which has live links on it.
How To Share Infographics
So, now that you've created your infographic, what do you do with it?  How do you make it work for you?  Here are some ideas.
Social media (of course).  Share it on facebook, linkedin, twitter, instagram, snapchat, wherever you are currently sharing all your other information.
Your blog / website.  You can accompany it with an article (like I'm doing here) or simply make a post of just your infographic.
Slideshare – in this service you can share presentations, documents and PDF's.
If you think you have an AMAZING infographic email the editor at FastCompany ([email protected]) and let them know about your creation.
Flickr – you've probably heard of it – is an online album where you can add your infographic.
Infographaholic – a website just for infographics.  Great place to submit yours but also to get ideas as well.
Daily Infographic – is another website just for these great visuals.
NerdGraph – again, another website just for infographics.
StumbleUpon – I love this website and they are a great place to add your content and visuals for online marketing.
So, that's the essentials that you need to get started on using Infographics as part of your online marketing campaigns.
(Visited 2 times, 1 visits today)
Easy Steps To Creating and Using Infographics For Online Marketing