Our social media marketing program is priced and designed to help the small business owner engage in and manage their social marketing campaign. Our goal is to make the process of Internet marketing as easy for you as we possibly can. We know that small business owners are swamped with work and we understand the limitations of time. So, our social marketing program is designed to give you the exposure you need, save you time and at affordable rates.
Only $250.00 for setup (includes 6 social media programs)
And $180.00/month (includes 2 keyword optimized articles)
(Only $85.00 for each additional article – if you want more than 2 per month)
AND/OR
Only $35.00/article (includes optimization and submission of an article YOU wrote)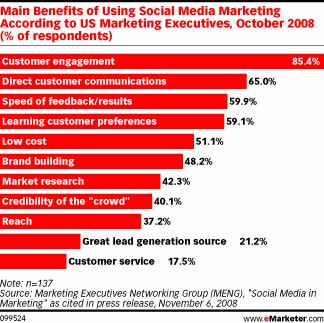 Not surprisingly, customer engagement takes the top spot, with 85.4% of respondents citing it as a benefit of using social media marketing (perhaps the better question is, who are the 15% of respondents who didn't see that as a benefit?). More interesting is that direct response – defined as "great lead generation source" in the list of benefits – was only cited by 21% of execs, implying that most execs don't see the medium as having a direct impact on sales.
This survey was taken in 2008 and it goes without saying that 2009 has proven to be the year for social media marketing. Facebook, Twitter and Linked In have all seen double and triple digit growth in usage and views.
With 51% of respondents also citing "low cost" as a benefit, I think the case can be made that social media marketing is a viable medium for driving customer growth.
So, what are you waiting for? Join the Web 2.0 world of social media marketing today! Call us or contact us today and we'll help you get started!
(Visited 11 times, 1 visits today)